Ausma Malik is Atkinson's Director of Social Engagement. She is also the host of Just Work It, our podcast for and by millennial workers.
"I wasn't a failed DJ. I was pre-successful." This is just one of the flashes of brilliance that made me a true fan of The Good Place, a wildly funny, philosophical sitcom about life, death, good, evil, redemption and frozen yogurt that premiered in 2016. The series finale aired late last month.
Jason Mendoza, the wanna-be DJ in the band of misfits and their non-human friends, is cast as the least likely to be a deep source of wisdom. But everyone on this journey through the afterlife has a valuable perspective to contribute. In the pursuit of The Good Place, yes. But even more importantly, in the work of becoming people worthy of it. People who simply won't "take it sleazy."
I've been thinking about this kind of work lately because we've been getting ready to drop the second episode in our third Just Work It podcast series, 2062: Beyond a Cartoon Future for Millennial Workers. It's much shorter than the rest — especially after last year's 80-minute live event. A quick 10-minutes (or the average time it takes to choose a Netflix show!) But it opens up some big questions about the economy: who owns it, how does it work, and how can we make it better?
Ted Howard from the Democracy Collaborative is my guest. He's a systems thinker. A skillful architect. A designer of practical solutions to the growing problem of income and wealth inequality. (The resemblance between Ted Howard and Ted Danson, otherwise known as The Good Place's architect Michael Realman, probably has something to do with my train of thought!)
Left: Ted Danson plays Michael Realman, The Good Place architect (and antagonist turned ally). Right: Ted Howard is the Co-founder and President of The Democracy Collaborative.
You'll hear what I took away from the conversation with Ted when you listen to this new episode called Lighting Up the Economy. The wrap up of The Good Place series after four hilarious and thought-provoking seasons, however, gave me three more insights:
(Spoilers ahead. Stop here and come back after you've caught up, or keep reading.)
1. Seeing is believing.
"They're never going to call a train to take us to the Bad Place. They can't…because we're already here. This is the bad place." – Eleanor Shellstrop, 'The Good Place' protagonist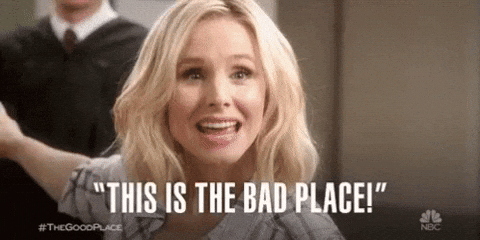 It's the first big twist. The big 'reveal' at the end of the show's first season. This Good Place is actually an elaborate system of torture. No matter how many times Eleanor and her friends are distracted or duped, they can't escape this fact.
On their long journey to the heart of this place, there are many discoveries. No one has gone to the actual Good Place in centuries. "There are so many unintended consequences to well-intentioned actions." explains philanthropist-socialite Tahani Al Jamil. It turns out to be virtually impossible to make good choices in a celestial points system designed for failure. The result is a population boom for the Bad Place.
When we finally see a system is irretrievably broken, we can't unsee it. We can no longer ignore it. We have to do something. But where to start?
2. Start where you are now.
"We choose to be good because of our bonds with other people and our innate desire to treat them with dignity. Simply put, we are not alone." – Chidi Anagonye, 'The Good Place' moral philosopher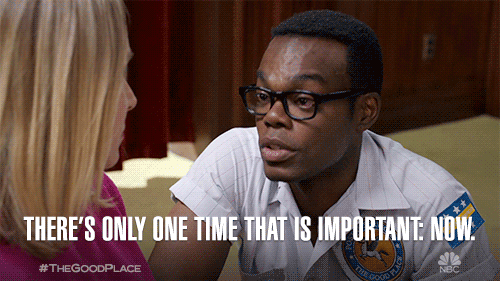 We start where we live. We connect with people who live there too. Together, we shape the future we want. Now.
The indecisive philosopher Chidi argues that principles can help ground and guide us in making good and timely decisions. "Principles aren't principles when you pick and choose when you're going to follow them," he says. Over four seasons, the most important principle appears to be "stick together."
Chidi and his friends repeatedly turn to each other whenever the going gets rough. Eleanor explains why to a Bad Place architect:
"You saw us all on Earth: a selfish ass, an idiot DJ, a tortured academic, a hot, rich fraud…You thought we would torture each other, and we did for a little, but we also took care of each other. We improved each other, and the four of us became a team. So, the only thing you succeeded in doing was bringing us all together."
It's an 'aha moment' when we realize we're not alone and that, collectively, we have the power to accomplish things that no one can do on their own. When we know this, we have a fighting chance to make the world a better place.
3. Fairness matters.
"Fair is the stupidest word humans ever invented, except for 'staycation' – Shawn, 'The Good Place' Demon Boss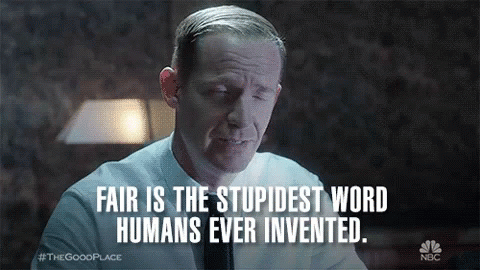 Forming an unlikely alliance with the demon architect Michael, this wildly diverse crew combines their insider knowledge, philosophical learnings, and unique talents to undermine the existing system. Their trust in each other grows one episode at a time. Before long, they are exceptional schemers who are changing the balance of power and making the celestial points system fair.
They start by getting everyone engaged, literally, in designing reasonable afterlife rules — rules that are simply too good to reject. But they also make the sacrifices necessary to replace arbitrary and brutal forms of torture (which demons like) with more creative and satisfying activities (that everyone likes.)
The good thing, if not the best thing of all, is that our generation is not waiting to create such a world. The fate of our planet may seem to be in the hands of an all-knowing and strict judge like Gen (short for Hydrogen!) but we know it's up to us. 
To quote Ted Howard, "very courageous, innovative people are no longer waiting for someone to come save them. They're starting to do the things they need to build their own future." At Atkinson, we're working with people who have come together to build community wealth here in Toronto and Windsor, to Cleveland, Ohio and Preston, England and many more cities in between. Civic coalitions, municipalities, hospitals, universities, small businesses and leaders in other sectors are using social procurement and community benefits strategies to take more responsibility for the economy. They're not "taking it sleazy." They're making it fair and sustainable instead.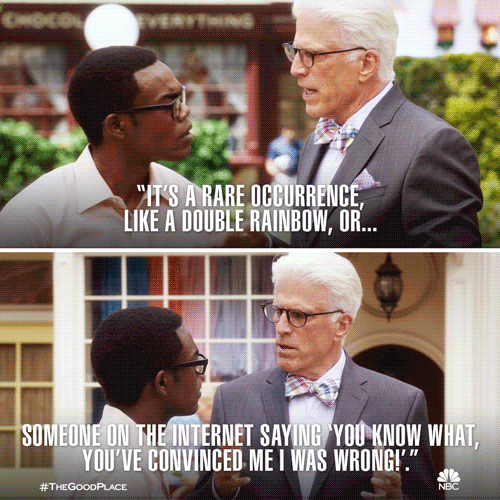 Not convinced? Maybe just curious? Listen to Ted talk about the system change that many people are already pursuing in the good places they call home. Check out the show notes to find out more about the fair economies movement.